Basic Dental Care in Denville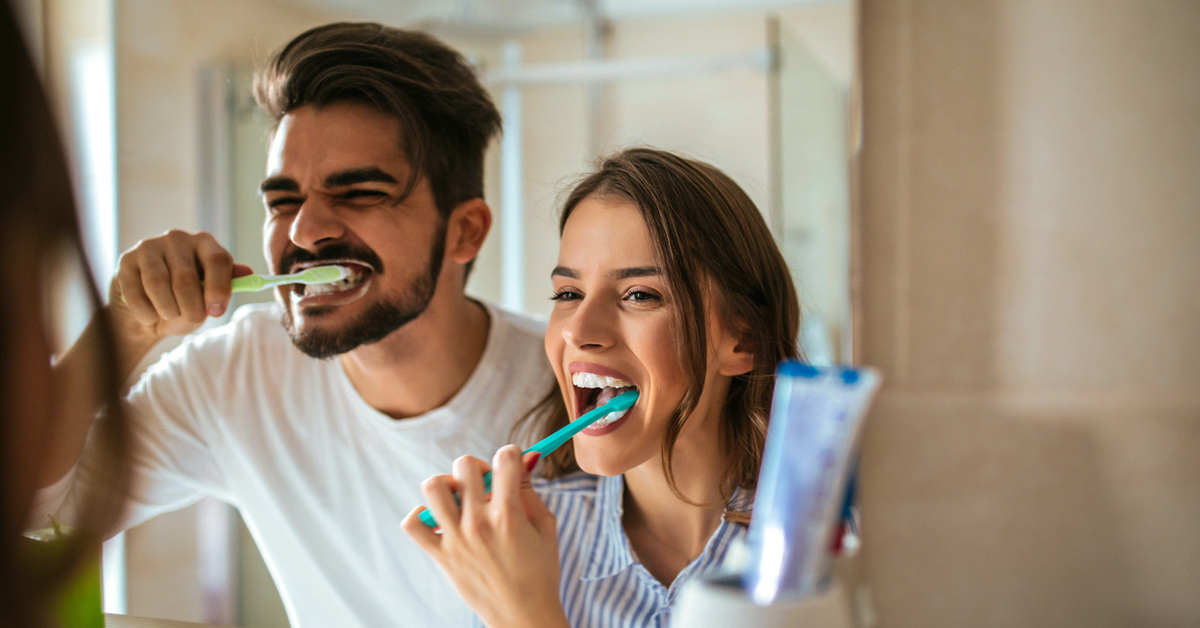 Your oral hygiene is at least as important as your physical health care, perhaps more so. Research has linked poor oral health to diseases such as dementia, cancer, and cardiovascular disease. Unfortunately, many people relegate their oral hygiene to the bottom of their daily to-do list and skimp on it or skip it altogether when they're tired or rushed.
However, the couple of extra minutes you spend on your oral hygiene can pay dramatic, long-term dividends on both your oral health and your physical health, so skimp on something else when you're tired, like that bowl of ice cream you want. Your dentist is your best ally in maintaining good oral health.
If you need to schedule an exam or have questions, click here for the Denville office, and we'll be happy to help you.
What Should Basic Oral Hygiene Encompass?
Your minimum daily oral hygiene regimen should consist of the following:
● Brushing a minimum of twice daily, more often is preferable
● Using good quality toothpaste, either gel or paste, that contains fluoride and carries the ADA seal of approval
● Flossing at least once each day
● Using an antibacterial mouthwash at least once daily
For best results, you should brush and floss after each meal and snack if possible. If not, then be sure to rinse your mouth well with plain water after eating a meal or snack.
How Many Times Should I Brush Daily?
The American Dental Association recommends that you brush a minimum of twice each day, and one of those times should be just before you go to bed. Don't eat or drink anything but plain water after your bedtime brushing so that you don't sleep all night with food particles and bacteria in your mouth.
When you brush, use gentle pressure in a circular motion with back-and-forth strokes. Using firm pressure and quick strokes can harm your tooth enamel, so avoid doing that. You should brush for a minimum of 30 seconds on each side of your upper jaw and 30 seconds on each side of your lower jaw, so your entire brushing time should be for two full minutes. Some models of electric toothbrushes will notify you when you've brushed for two minutes.
Change your toothbrush every three months, or sooner if you've been ill. If the bristles start to splay or fray, then change your toothbrush. Be sure your toothbrush has soft bristles that are uneven in length. This enables your toothbrush to reach the maximum amount of food particles and bacteria in your mouth. It doesn't matter whether you use a manual toothbrush or an electric one as long as it has soft, uneven bristles or your dentist recommends something else. If you have any questions about the best toothbrush for your needs, ask your dentist.
Should I Use Fluoridated Toothpaste?
Most brands of toothpaste, whether gel or paste, are now fluoridated because of research from the 1950's that showed that fluoride, a naturally-occurring mineral, strengthened tooth enamel and reduced cavities in the majority of users. Since many municipalities now fluoridate their water supply, some people are concerned that they may get too much fluoride in their diet. This is unlikely because water supplies are fluoridated only to the minimum level necessary for health, but if you're concerned, ask your dentist. Excess fluoride in the body has symptoms, so talking to your dentist may alleviate your concerns.
Is Flossing Beneficial?
Flossing daily is another recommendation of the ADA, so if you floss only once daily, it should be just before bedtime. Don't eat or drink anything but plain water after you floss at bedtime. Otherwise, you'll accumulate more food particles and bacteria in your mouth.
It doesn't matter whether you floss or brush first; just do both. Whether you use traditional dental floss, a floss pick, or a water flosser doesn't matter either. They all work the same and are equally effective. We just want you to pick something you'll use daily. If you have questions about the best product for your needs, ask your dentist or call our Denville office, and we'll be happy to help you.
Are There Additional Tips for Basic Oral Hygiene?
To improve your basic oral hygiene efforts, consider changing some of your eating habits. For example, snacking on nuts, fruits, and vegetables can be good for your teeth and gums as well as your physical health and your waistline. Their crunchy texture removes food particles from your mouth, and the extra nutritional value is far better for you than traditional snack foods.
Replace sugary soft drinks with plain water. Although it may seem boring, plain water is very good at rinsing bacteria and food particles from your mouth, and it keeps your body better hydrated, which is great for youthful skin, hair, and teeth.
What Are Good On-the-Go Tips?
If you spend lots of time on the road or away from home, consider assembling a to-go dental kit that contains travel sizes of your favorite dental products. That way, even when you're not home, you can maintain good oral hygiene. However, if brushing and flossing aren't feasible, you can still rinse your mouth well with plain water until you're able to brush and floss.
What Are Good Prevention Habits?
Aside from the above, your best prevention habit is a regular dental exam and teeth cleaning. Annual exams and cleanings are good, but semi-annual is optimal, especially if you are high risk for certain conditions. Even if you have excellent oral hygiene, you may have a problem you don't know exists and oral cancer is a good example.
Since it presents asymptomatically, most people are unaware of it until it has spread, or their dentist points it out. We recommend that all our patients get screened for oral cancer. Your dentist will conduct the screening during your oral exam. The screening isn't invasive or painful, but it's essential for good oral health. Oral cancer is the fastest spreading cancer, now accounting for more than three percent of all new cancer diagnoses. If you smoke and drink, your risk is even higher.
Click here to make an appointment in Denville for a cleaning and checkup!
We Can Help You
We're among the best in the area, and we know you'll be happy with your dental experience in our office, so call us today. We look forward to speaking with you and working with you.
If you need to screen for oral cancer or you need an exam and teeth cleaning, then click here, and we can help you