Do You Need an Oral Surgeon?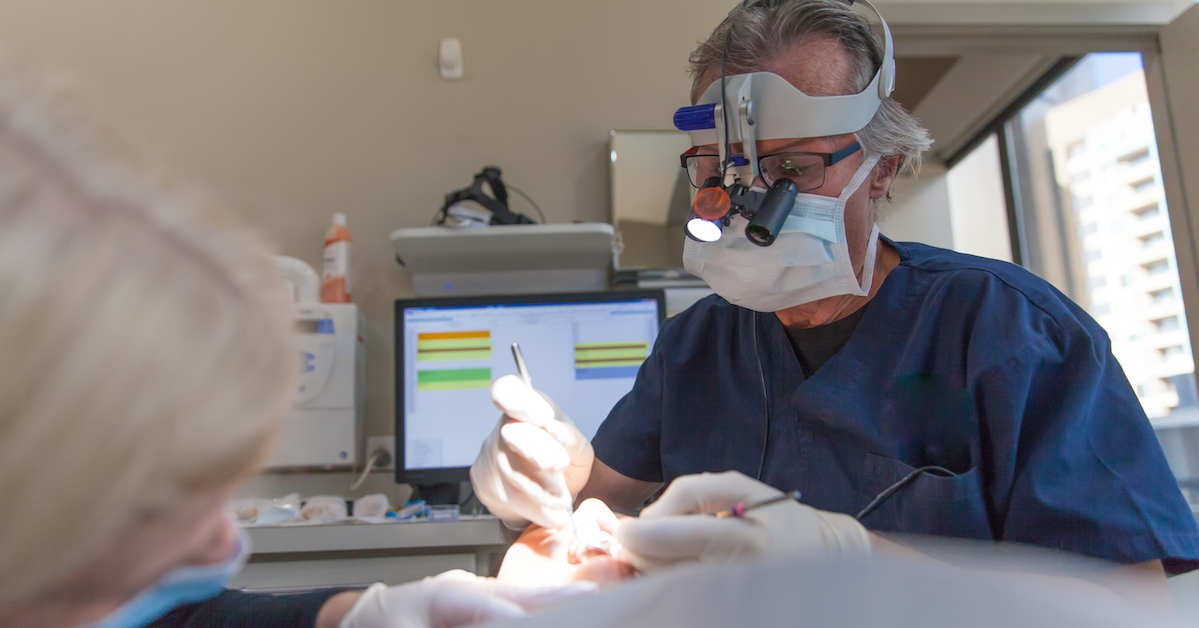 An oral surgeon has completed the four years of training and education required to become licensed as a general dentist, in addition to four more years of specialized training in surgical hospital residence. They specialize in advanced dentistry services such as repairing facial damage, broken jaws, and knocked-out teeth, extracting impacted wisdom teeth, performing cosmetic and restorative dentistry, treating TMJ issues, and placing dental implants. Typically, oral surgeons address issues that are beyond the purview of general dentistry, so your Denville dentist may refer you to an oral surgeon.
Since oral surgeries are often complex, intricate procedures, they often require general anesthesia rather than a local. An oral surgeon is trained to administer all types of anesthesia, so you can be assured that your experience will be as comfortable as possible. Usually, general anesthesia is used for procedures involving incising the soft tissues in the mouth, for which local anesthesia would be inadequate. If you need general anesthesia, you'll need someone to transport you home as you won't be able to drive.
Is There a Better Option Than Oral Surgery for Me?
If you're suffering from severe dental pain and discomfort, you may need the services of an oral surgeon. If, for instance, your wisdom teeth didn't erupt properly, they may become impacted. The result will be painful, swollen teeth and gums that may develop an infection. If not treated, permanent damage can occur, so you need to have the impacted teeth removed. This will alleviate your current pain and discomfort as well as prevent its recurrence.
Which types of jaw-related problems can oral surgery can fix?
An oral surgeon can correct the following types of jaw-related issues:
TMJ issues: If you have temporomandibular jaw disorder that has not been corrected through therapy and medication, then an oral surgeon can correct the problem.
Jaw irregularities: If you have irregularities in your jaw that prohibit your dentures from fitting well, an oral surgeon can remove the irregularities so that your dentures are comfortable and fit well.
Unequal jaws: If your jawbones are of unequal length, then breathing, eating, and speaking can be difficult. An oral surgeon can correct the inequality and restore function and form to your jaws.
If you have any of the above, an oral surgeon can alleviate your problems, so don't suffer any longer.
Which types of facial problems can oral surgery fix?
Oral surgeons are masters at alleviating facial flaws and issues such as:
Cleft issues: A cleft lip or palate is a fetal developmental disorder that causes a gap in the roof of the mouth or the upper lip. Rarely does it affect the lower lip, but it can cause problems with speaking and eating.
Facial infection: If you have an infection that's causing painful swelling on your face, then an oral surgeon may be able to diagnose and correct the problem.
Facial injury: If you have a broken jaw or other facial bones that are fractured or broken, an oral surgeon can repair the damage and restore form and functionality to your face.
Sleeping problems: If you have sleep apnea or another type of sleep disorder, an oral surgeon may help restore your ability to achieve a good night's sleep.
If you have any of the above issues, an oral surgeon may be able to remediate your problem promptly. Don't suffer longer than you have to if you need the services of an oral surgeon.
Are There Before and After Surgery Tips to Follow?
It's understandable and normal to be apprehensive about an upcoming oral surgery. However, planning ahead can allay your anxiety and make your experience less stressful. Ask your oral surgeon if you'll need any prescriptions after your procedure. If so, arrange for someone to pick them up if you can't get them beforehand. If you're apprehensive about your sedation method, discuss that with your oral surgeon and ask about distraction methods to help you relax. Your oral surgeon will understand your anxiety, so don't be afraid to ask questions.
Will I Need to Arrange Transportation?
Depending on your type of sedation, you may need transportation after your procedure. After general anesthesia, you can't operate a vehicle, so you'll need someone to bring you to the clinic, wait for you, and then transport you home. If you have local sedation, you may not need a driver, but ask your surgeon.
Are There Lifestyle Habits That Oral Surgeons Recommend?
You'll be provided with specific aftercare instructions that apply to you, but generally, you should avoid drinking or eating anything for eight hours before your surgery that uses general anesthesia. Otherwise, you may vomit and aspirate during your procedure. If you receive a local anesthesia, avoid drinking or eating two hours before your procedure. When you come to your appointment, wear loose-fitting, comfortable clothing, and don't wear contact lenses or jewelry. Avoid smoking for at least 12 hours before your procedure and 24 hours afterward.
What Will Make My Recovery More Comfortable After Oral Surgery?
Your oral surgeon will probably recommend a soft-food diet for several days after your surgery. If you find that your nutritional requirements aren't being met, then add a meal replacement like Boost or Ensure. Plan a few days of rest and recuperation, and if you experience unusual bleeding, pain, or swelling, be sure to contact your oral surgeon without delay.
If you need an oral surgeon, ask your family dentist for a recommendation. If you don't have a family dentist, ask your family doctor for suggestions. Be sure to make an appointment with the oral surgeon to be sure you're comfortable with them and their credentials. Check with your insurance provider for the scope of your benefits, your exclusions, and any limitations, and take that information with you to your appointment with the oral surgeon. If you have an emergency or severe injury, go to the local emergency room.