Don't Suffer in Pain. Call our Clinic for Emergency Dental Treatment!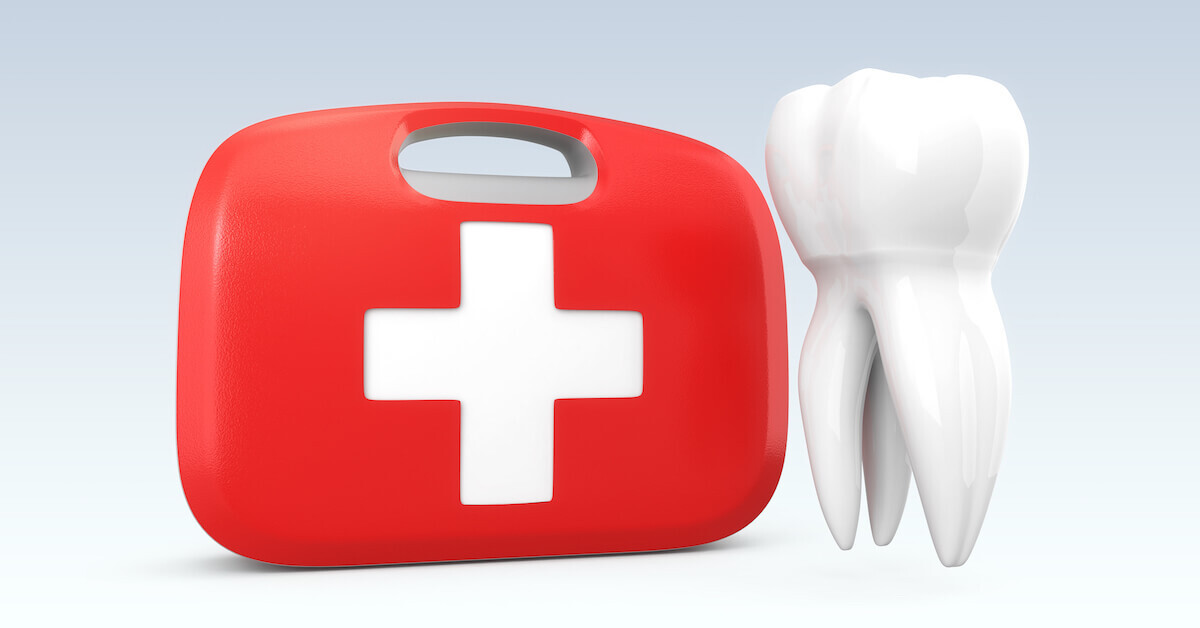 Most of us will experience some type of dental emergency during our lifetime. Whether it is a chipped tooth or an abscess, emergency dental issues can lead to tooth loss if not treated quickly. If you are looking for emergency dental care near Denville, we can help. We offer affordable, state-of-the-art dentistry and emergency dental services in a caring and professional environment.
Where Can I Go for Emergency Dental Care Near Denville?
Most dental practices are able to handle emergency dental issues. The problem is convenience. A dental emergency can arise at any time of the day or night or on a holiday when traditional dental practices are closed. A walk-in dental clinic can provide you with the emergency services that you need to alleviate your pain and protect your tooth. Emergency dental clinics are typically affordable and offer shorter wait times than traditional practices or emergency rooms.
How Do I Know If I Need Emergency Dental Care Near Denville?
Pain and injury are the most common reasons to seek emergency dental care. If you are unsure whether your situation constitutes a dental emergency or is a standard problem that can wait until normal business hours, you should contact a dentist for advice.
Common Pain-Related Dental Emergencies
You should seek emergency dental care near Denville if you experience any of the following:
Cracked Tooth
Even small fractures in a tooth can cause intermittent sensitivity and open the door to infection or tooth breakage.
Dental Abscess
Pus-filled abscesses, pain, nausea and vomiting, and fever are common signs of a bacterial infection of the tooth or gum. If not treated quickly, the infection can spread to the bones and tissues of the throat, cheek, and jaw, which can be life-threatening.
Cavities
A cavity is an area of decay on the surface of the tooth and is usually the result of inadequate dental care. The most common symptom is pain or sensitivity in the affected tooth when eating or drinking.
Infected Root Canal
During a root canal, the dentist removes the nerves and tissue inside the tooth and reinforces the tooth with a crown. In rare cases, bacteria can get inside the root canals to cause infection.
Teeth Grinding
Individuals with bruxism unconsciously clench their teeth and jaw, especially while sleeping. This can cause persistent pain in the face and jaw that radiates to the ears, neck, and shoulders. In extreme cases, the pressure can even be enough to chip or crack the teeth.
Sinus Infections
Sudden tooth pain, especially in the upper rear teeth, may be a sign that you have a sinus infection.
Receding Gums
Patients with gum disease often experience gingival recession, which can expose the sensitive tooth root, leading to pain or sensitivity.
Damaged Tooth Enamel
Tooth enamel protects the underlying dentin from trauma and temperature extremes when eating or drinking. If the enamel coating is damaged by acidic foods and beverages, bruxism, or frequent vomiting, you may experience pain and sensitivity.
Common Trauma-Related Dental Emergencies
Sudden damage to the teeth, especially if accompanied by severe bleeding, swelling, or pain, requires immediate emergency treatment. These types of emergencies are typically caused by accidents, playing sports, or eating hard foods. Children are most at risk for a trauma-related dental emergency. The American Academy of Family Physicians estimates that more than a third of children will suffer a traumatic injury to their primary teeth, and 20% of 12-year-olds will suffer a traumatic injury to their permanent teeth. If you or someone you love sustains a broken, chipped, or cracked tooth, you should contact a dentist right away to determine if immediate treatment is needed.
More than 5 million teeth are lost as a result of traumatic injuries each year in the United States. A knocked-out tooth is perhaps the most distressing type of traumatic tooth injury and requires urgent dental care; however, the tooth may not be lost forever. If you act quickly and contact an emergency dentist within 30 minutes of the incident, you may be able to save the tooth. You will need to bring the tooth with you to the office. You should also call us ahead of time for instructions on how to handle and preserve the tooth for the best results. If the tooth is too damaged to reimplant, the dentist will help you find an appropriate replacement option, such as a bridge or implant.
What Should I Do About a Missing Crown or Filling?
A missing or damaged filling or crown requires immediate treatment to alleviate pain and protect the exposed tissue from infection. If you are experiencing sensitivity to air, temperature, or pressure, a dentist can recommend an appropriate over-the-counter pain reliever. If you aren't in pain, we may be able to provide you with suggestions for reinforcing and protecting the tooth until you can come in for a more permanent repair.
When Should I Go to the Emergency Room for Tooth-Related Issues?
ER physicians are not trained to diagnose and treat oral health issues. While they can deal with bleeding and other issues associated with traumatic injuries, they cannot perform tooth extractions or restorations. These issues must be handled by a dental professional. The ER, however, may be your best option if you are experiencing symptoms of a severe infection, such as radiating pain, fever, swollen lymph nodes, facial swelling, or difficulty breathing or swallowing. This type of infection typically requires powerful antibiotics that are only available in a hospital setting. If you do seek treatment at the ER, you should still contact your dentist to determine if further treatment is necessary.
Whatever your oral health emergency, you can trust a Dental Care Alliance practice to provide you with the quality, professional care that you need at an affordable price. Call today for more information about our services or schedule an appointment online.