Posted under:
Root Canal
Posted on: September 1, 2022
Gum Care Awareness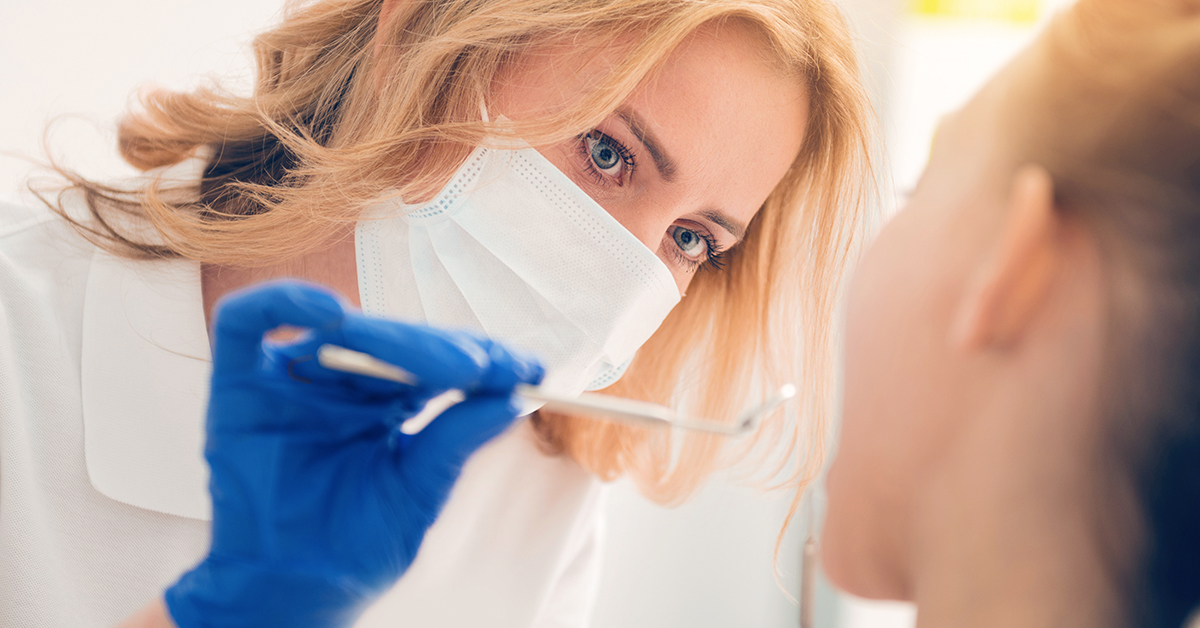 Keep Your Body Healthy With Healthy Gums
A little-known educational event occurs in September. It's called Gum Care Awareness month, and even though it may not sound like an earth-shattering event, good gum health is essential for good physical health. When your gums are unhealthy, the bacteria in your mouth penetrate the thin, porous membranes and are transported throughout your body.
Since bacteria can cause inflammation and infection, your entire body can become unhealthy if your gums and mouth are unhealthy. Poor gum health leads to gum disease, which is the leading cause of tooth loss in those who are 35 and older. Don't become one of these statistics.
Get regular dental exams and teeth cleanings so that your gums and mouth stay as healthy as possible. Call today to schedule your appointment!
What's Involved in Maintaining Good Gum Health?
Maintaining good gum health is as simple as brushing and flossing your teeth. The American Dental Association recommends that you brush and floss a minimum of twice daily, ideally after each meal or snack. Use an antibacterial mouthwash to remove residual bacteria, and be sure to get regular dental exams and cleanings. Annual exams and cleanings are the minimum, but semi-annual exams and cleanings are better if that's feasible.
You don't need special tests or equipment to maintain good gum health. All you need is your toothbrush, toothpaste, and dental floss. Antibacterial mouthwash is recommended, but it's optional. Make sure your toothbrush has soft bristles and that it's the correct size for your mouth. Use a quality toothpaste and dental floss that can be traditional floss, a flosser, or floss picks. Using them is more important than their specific configuration. Brushing your tongue may feel odd at first, but it can remove a lot of bacteria that are hidden on the rough surface of your tongue. It's especially important if you don't use mouthwash. All your dental products should carry the ADA Seal of Acceptance, so you know you're using a quality product.
How Will I Know If I Have Gum Disease?
If you have gum disease, you'll likely notice minor bleeding when you brush or floss. If you notice bleeding, make an appointment with your Denville dentist, so you'll know if it's gum disease or another issue. We recommend that all our patients over 18 get screened for oral cancer. The screening isn't painful or invasive, it's done during the exam, but it's an important component of good oral health.
If your dentist confirms the presence of gum disease, it's most likely gingivitis, which is curable, and any damage is reversible. If you notice any of the following signs or symptoms, you should make an appointment with your Denville dentist:
Areas of inflammation or irritation on your gums
Bad breath or an odd taste in your mouth
Bleeding during brushing or flossing
Gums pulling away from your teeth
Loosened teeth or oddly spaced gaps between your teeth
Red, sensitive, or swollen gums
Pockets of infection or pus between your teeth
The presence of one or more of the above can indicate the presence of gum disease, and it's important to address the issue promptly.
What Happens If I Have Gum Disease?
When you come in for your appointment, your dentist will thoroughly examine your teeth and gums to verify or eliminate the presence of gum disease, and then formulate a treatment plan. The stage of your gum disease will determine both the treatment plan and their suggestions for preventing recurrence. Early treatment has the best prognosis, and treatment protocols are the least invasive.
Don't delay, call today for your gum disease treatment appointment! We're here to help you achieve great dental health!
The Three Stages of Gum Disease
Gum disease has three stages but usually presents in its first stage of gingivitis. Seldom does gum disease present asymptomatically. The three stages are:
Gingivitis: This is the first stage and usually appears as minor bleeding when you brush or floss. It's caused by a buildup of tartar on the teeth. Since tartar inflames your gums, gingivitis develops. Your dentist will recommend ways to prevent future recurrence, but the best recourse is good oral hygiene. Gingivitis is curable and doesn't typically cause irreversible damage.
Periodontitis: This is the second stage of gum disease and is caused by ignoring the first stage of gingivitis. At this point, your gums will have incurred irreversible damage, as will the bones and ligaments that secure your teeth. Progression of the disease can be halted, but the damage will be done and reconstructive dentistry will be required to restore the form and function of your jaw. You should also adopt better oral hygiene habits, so that gum disease doesn't recur. Although the bones and supporting tissues in your mouth will be damaged, they can be treated with antibiotics, root planing, and scaling.
Advanced Periodontitis: This is the third stage of periodontal disease. By this time, you'll have inflicted extensive, irreversible damage to the bones and tissues in your mouth. The bone structure in your face will be distorted – it may look like your face has melted – and you may have lost some or all of your teeth. Although corrective dentistry can repair some of the damage, the procedures are expensive and time-consuming. Implants or dentures can restore functionality to your mouth, but you'll need to maintain good oral hygiene habits for the repairs to be effective over time.
Unfortunately, all this can be prevented with good oral hygiene, but sadly, that doesn't always happen. Avoid becoming one of these statistics by maintaining good oral health and keeping your gums healthy.
Healthy Gums for a Healthy Life
Your gum health is inextricably linked to your good physical health, and research has established a correlation between poor gum health and the following severe diseases:
Cancer
Cardiovascular disease
Dementia
Diabetes
Hypertension
Stroke
For a long healthy life that's relatively free of diseases, keep your gums healthy with good oral hygiene habits that include regular dental visits and checkups.
If It's Been a While Since You've Visited the Dentist…
If you haven't seen a dentist in a while, there's no better time to schedule an appointment. Call Diamond Spring Dental Associates at (973) 810-5905, and we'll schedule a convenient time for you. Your Denville dentist is your best ally in maintaining good oral health as well as good physical health, so call us today.
We look forward to speaking with you and working with you.