Posted under:
Root Canal
Posted on: September 30, 2021
Understanding Sensitive Teeth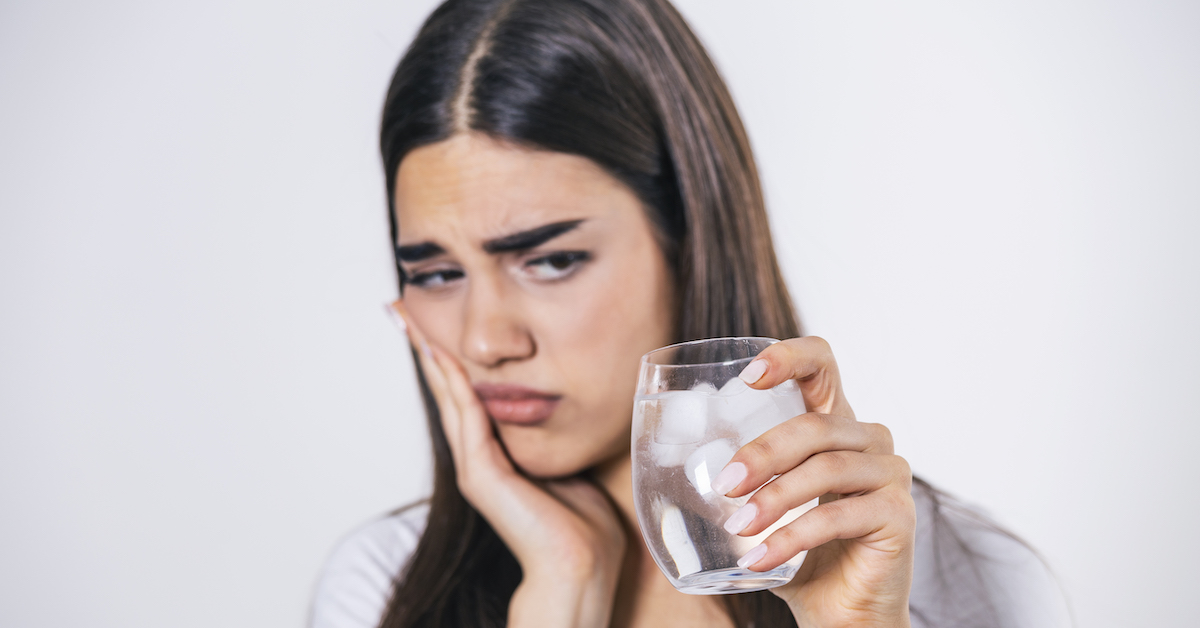 Pain or sensitivity of your teeth can interfere with regular dental hygiene and can, in some cases, be a sign that something is seriously wrong with your teeth and gums. Working with an experienced dentist is often the best way to determine the root causes of sensitive teeth and to treat these conditions effectively.
Along with the discomfort that tooth sensitivity can cause, the underlying causes of this issue can often result in serious damage to the surfaces or roots of your teeth as well as the gums. This can occur because of the gradual deterioration or wearing down of tooth enamel or because of the conditions that can affect the overall health of gums and bone structures inside the jaw.
Finding ways to address these issues can be a real challenge. Your dentist can often provide you with an accurate diagnosis of the cause of your pain and discomfort. This can allow you to deal with these problems more effectively and can promote the best possible outcomes for you and your family members.
Symptoms of Sensitive Teeth
Some of the most commonly reported symptoms of tooth sensitivity include the following:
Sharp stabbing pains in teeth that can sometimes feel like a jab from a needle
Pain or discomfort when teeth are exposed to hot or cold foods or drinks
A dull ache that persists and remains in the same place for several days or longer
If you or any member of your family have experienced these types of symptoms, visiting your local dentist now is essential to prevent further damage and to relieve the pain as quickly as possible. Your dentist will perform tests to determine the underlying reasons for your tooth pain. A dentist is always interested in promoting the healthiest teeth and gums for you and every other member of your family, so do not delay in seeking treatment.
Common Causes of Tooth Sensitivity
Some of the most common reasons that people develop tooth sensitivity include the following risk factors:
Brushing your teeth too hard or using a toothbrush with sharp or hard bristles can sometimes damage your tooth enamel or your gums. This can expose nerve endings and increase the risk of developing tooth sensitivity in one or more of your teeth.
Grinding your teeth is another way in which the hard enamel on the outside of your teeth can become damaged or deteriorated. Your tooth enamel is the first line of defense against cavities and other issues that could lead to sensitive teeth. Your dentist may be able to recommend and provide a custom mouth guard to prevent damage caused by grinding your teeth.
The wrong mouthwash can be worse than no mouthwash at all. If you suspect that your current mouthwash is causing sensitivity of your teeth or gums, you may want to stop using it for a period to see if your symptoms improve.
Receding gums caused by gingivitis or gum disease can also expose nerve endings. This can cause acute pain and tooth sensitivity if not treated promptly by your dentist. Sealants can often reduce or eliminate the sensitivity caused by these issues.
Acidic foods can interact with your tooth enamel to cause pain and other issues for your teeth. Avoiding these foods can often help you to manage the symptoms of tooth sensitivity for yourself and your family.
Chips, cracks or damage to your teeth can lead to increased sensitivity for you and your family members. These injuries can be caused by accidents or by tooth decay over time. You may also experience temporary tooth sensitivity after undergoing a procedure in your dentist's office. These dental treatments can sometimes result in short-term sensitivity for the teeth that were treated and for adjacent teeth.
Alcohol can sometimes have an irritating effect on your teeth and gums. Cut back or eliminate the use of alcohol or, at a minimum, brush immediately after taking a drink.
In certain cases, abrasive toothpastes can wear down tooth enamel and can cause sensitivity. Your dentist may ask about the type of toothpaste you use and may recommend a less abrasive toothpaste to help you combat tooth sensitivity more effectively.
A filling that has deteriorated can sometimes allow infection and tooth decay to occur around the cavity it used to fill. If this occurs, you may have tooth sensitivity related to these issues. Your dentist will typically catch these issues during your regular dental exam visits.
Preventing and Treating Sensitive Teeth and Gums
Regular visits to your local dentist are among the most important steps you can take to manage tooth sensitivity. Other helpful strategies for dealing with these issues include the following:
Always use a soft-bristled toothbrush to avoid damaging tooth enamel. This could prevent issues with tooth sensitivity.
Consult your dentist to discuss night guards and how they can protect your teeth from damage caused by grinding or clenching your teeth at night.
Adjust your diet to avoid foods that are associated with higher risks of tooth sensitivity. This can often reduce the severity and the frequency of these painful episodes.
Maintain good dental habits. Brush and floss every day. Rinse your mouth with water or a mild mouthwash to help remove bacteria and food particles from your teeth when you cannot brush or floss.
Opt for plain water or other beverages without added sugar. Carbonated beverages, especially those with sugar, have been implicated in causing some forms of tooth decay. Avoiding them can often reduce the chance of developing tooth sensitivity and the issues that it can bring.
Helpful Tips for Dealing With Tooth Sensitivity
One of the best ways to address tooth sensitivity issues is to schedule regular visits with your family dentist in Denville. Avoiding the foods, drinks and activities that are generally associated with increased pain or discomfort will also help you to manage your dental health more effectively. In some cases, your dentist may recommend a toothpaste specifically designed to reduce tooth sensitivity to help you enjoy healthier teeth and fewer problems now and in the future.