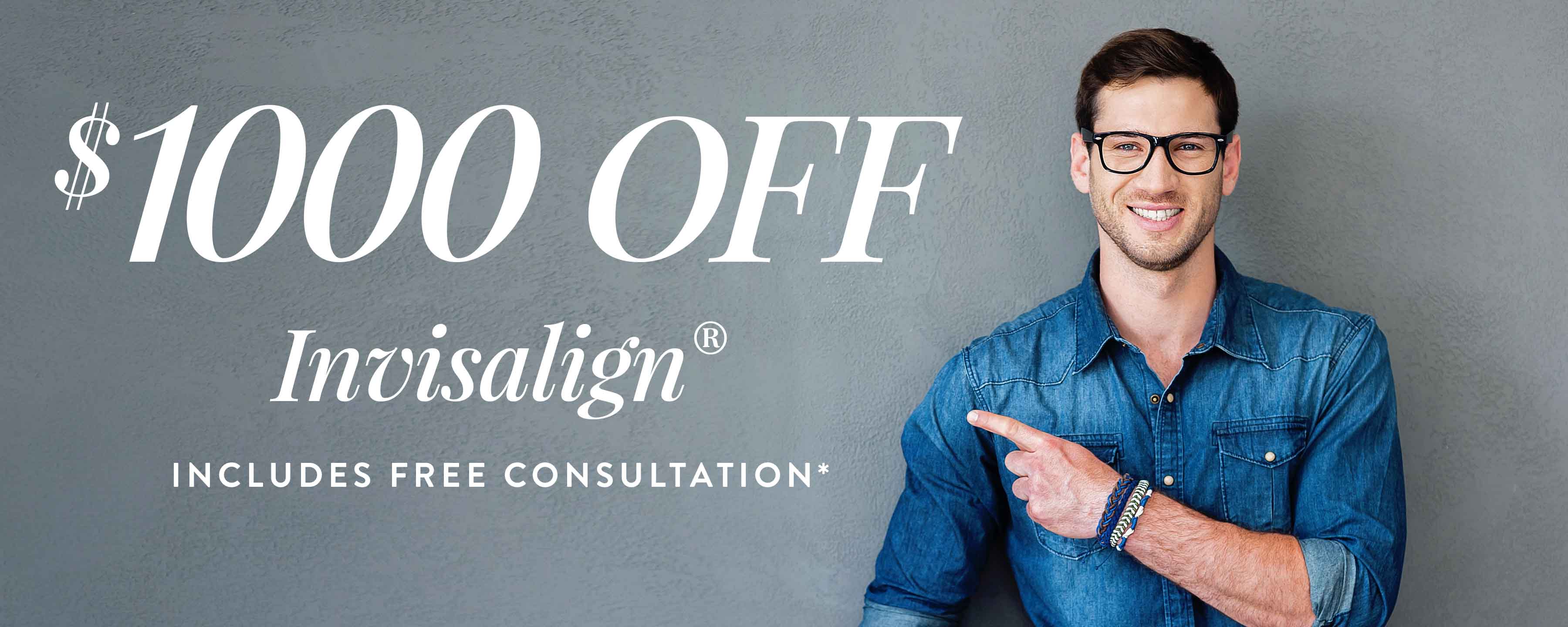 Includes Free Consultation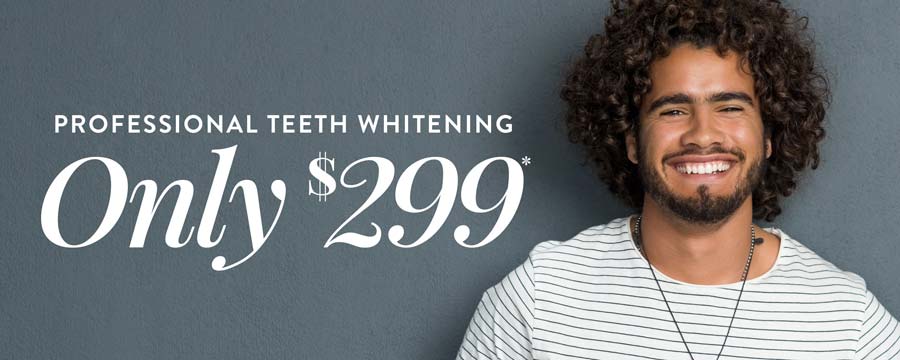 A $500 value
*Not valid on previous or treatment already begun. May not be combined with any other offer, discount, or reduced-fee program. Based on exam and doctor recommendations. Not all patients will qualify for whitening. Valid only for adult patients in the absence of gum disease. ADA 9972. Expires 03/31/2019.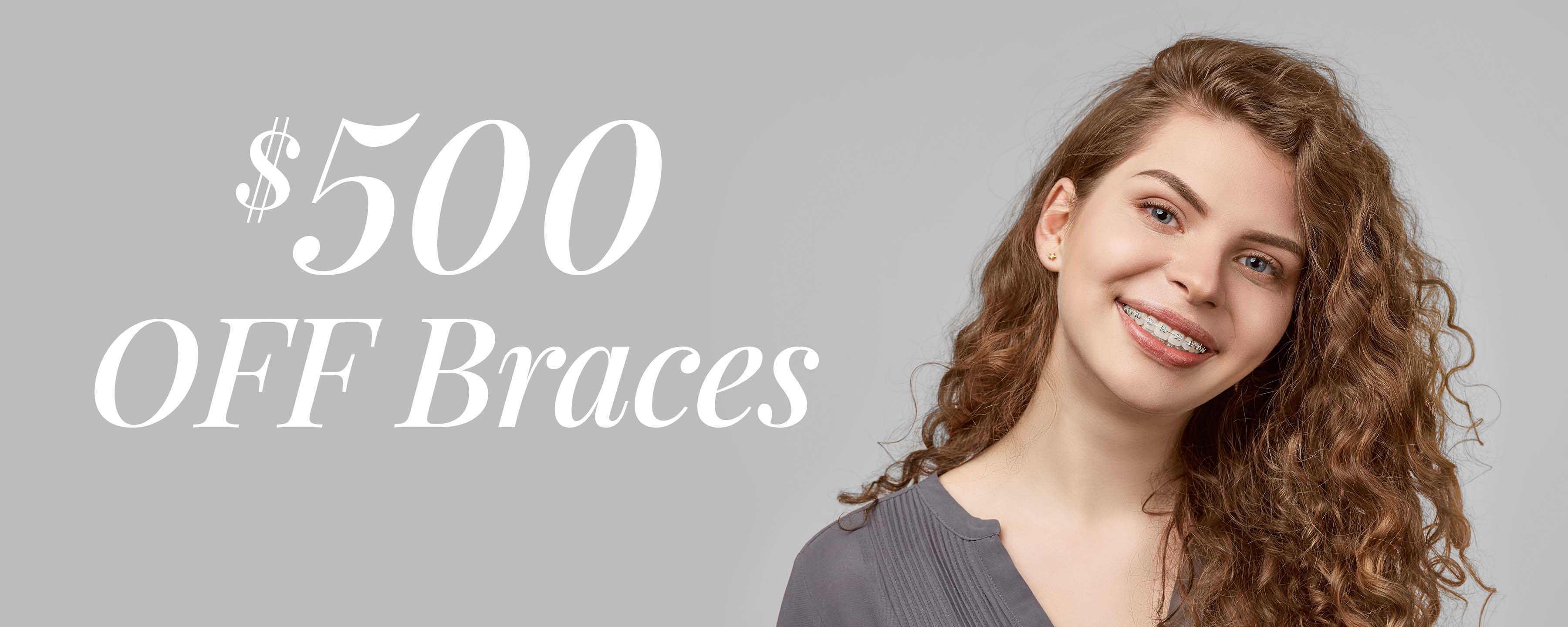 Includes Free Consultation
*Not valid on previous or treatment already begun. May not be combined with any other offer, discount, or reduced-fee program. Valid on standard 24-month orthodontic treatment for adults or children if started within 60 days upon receipt of this offer. Additional fees for anything over 24-month treatment apply. Not valid for treatment already in progress. Discount for insurance patients may vary. Retainer included; specialty brackets or specialty retainers are additional. Financing available on approved credit. Full value: $5,300. ADA 9310, D8080/D8090. Expires 03/31/2019.
Office Hours
Monday 9:00 AM – 6:00 PM
Tuesday 8:00 AM – 6:00 PM
Wednesday 8:00 AM – 6:00 PM
Thursday 9:00 AM – 6:00 PM
Friday 8:00 AM – 5:00 PM
Saturday 8:00 AM – 3:00 PM
CareCredit
CareCredit is a healthcare credit card designed for your health and wellness needs. Pay for the costs of many treatments and procedures through convenient monthly payments.
Making Denville Smile


The employees are so nice and caring there. This was my second time there and I will highly recommend them .I like to say thank you to them and Dr Napoli for making me feel comfortable and making going to the dentist a nice experience.

Barbara R.



I had an abscessed wisdom tooth that was very painful. I called to get an appointment and they were booked for the day. When I let them know how much pain I was in they squeezed me in and removed the tooth the same day. Dr. Napoli was awesome (and Liz and Borja too!)

Sean O.



From beginning to end Diamond Spring Dental made me feel comfortable, safe, and taken care of. Everyone know exactly what they are doing and go out of their way to make sure you are having a good experience.

Anonymous



My daughter got an implant done here and the surgeon (Dr. Napoli) was so skilled and very comforting. He treated us like humans, not just customers. The office staff (Elizabeth and Lisa) are accommodating and helpful. Their communication is wonderful. They opened the office early (5:45 am) just to pull my daughter's tooth because she was in pain. Today my daughter saw their dentist Dr. Saoud (an…

Christina L.



I travel 31 miles to go to this facility. Not because I like driving but rather the staff. Each one is knowledgeable and compassionate. The two that stand out the most are Dr Napoli and the office manager Elizabeth. Dr Napoli is very intelligent and caring. He takes the time to tell you everything he is going to do and why he is doing it and the expected results. The office manager Liz– well I d…

Art D.



The office staff and all the Dr.s are amazing! I am a chicken when it comes to the dentist and everyone has worked with me! The appointments are always running on time…the only Dr. Office that ever is. I would highly recommend Diamond Spring Dental!!!

Karen T.



Diamond Spring Dental has been a blessing in my life. My whole family goes for our annual checkups, dental work, orthodontics, and much more at this facility. Along with being amazing at dental work, they also have a generous heart. I went on two missions trips the past two years: one to Haiti, the other India. For both trips, Diamond Spring donated over 150 bags filled with toothbrushes, toothpas…

Sam F.



Had my teeth cleaned by Ryan. He was excellent and provided a thorough cleaning with no discomfort!

Frank B.



This dental team is like a finely oiled machine. Everyone works for one goal, the best possible care for their patients. When I initially sat down with Liz I never thought I would be able to pay for the extensive work I needed. She assured me that my health was there primary concern and the payment we would work out. I am on the second phase of a 4 phase plan. I have Always been petrified of the d…

Lynne D.



I would like to thank Diamond Spring Dental for their superb service. They went out of their way to assist me in all aspects of quality and compassionate service. They helped me to arrange for getting a payment plan schedule to meet my financial needs. I would highly recommend this establishment. You will be highly pleased. Thanks Diamond Spring, you rock!

Jane C.



I hadn't been to the dentist in a few years snd was a little nervous about how much eork I work I would need. The office manager, Liz, was amazing. She set my mind at ease snd it was apparent that she cares about the patients completely. She is genuinely friendly and very knowledgeable. I worked with me to set up a plan. Because of Liz and the efficient office, I walked out happy and excited to…

Cheryl V.



WOW an amazing experience!!! Called after breaking a molar, Bouchra (Dental Assistant) took charge, scheduled me for an emergency appointment to be seen as well as assisted the dentist I saw, and an extraction was required. I was going on vacation in 2 days and Bouchra worked with Liz (Office Manager) to reach out to Dr. Napoli (Oral Surgeon). I was informed that they would all come in 5:30am next…

Robyn B.



Doctors and staff all great Liz the office manger very friendly and helpful I would refer them to anybody

Michael K.



I chipped my tooth recently and Diamond Spring was able to get me in an hour after I called! This was my first experience working with, Dr. Saoud and It was wonderful! He was extremely gentle, and he did an amazing job fixing my tooth. My smile looks better then it did before the chip! I've gone back since and Dr. Saoud, made sure to come in and see how everything was going. He's extremely ent…

Kayleigh G.



Excellent experience again (as usual, what else would I expect). Dr Napoli was painless, and the procedure a success, Basha's proficient assistance was perfection, and Julie working her magic all helped make my visit exceed expectations! Thank you.

David M.



Dawn and Dr. Saoud are really amazing. I highly recommend this dentistry. They really care for their patients and will do whatever they can to fit you in if you are having excruciating pain. Even if it's just a temporary fix until they can get get more time to finish the rest, they are amazing. Thanks for taking great care of me on my first visit here and I will now be using this practice from h…

Sean C.



Diamond Spring Dental is the absolute best. Everyone is so nice, personable and professional. The dentists do a fantastic job with explaining what needs to be done and then do a great job with the procedures. Never had any problems later on with any work! The front desk staff alone makes it an enjoyable experience. (Did I really just use the word enjoyable talking about a dental office?!) They tak…

Danielle



Wonderful and awesome office. I walk in and they know my name and all of my family. They are quick when you have an issue and worries about you first and money later. I am treated more like family than a patient. Love love love them!

Colleen T.



They were caring and helpful and they got me in right away. I was in so much pain and they made the visit smooth and easy for me. Dawn and Elizabeth the office manager were there to greet me and help me get all the paper work done and Dr. Napoli made me feel calm and relaxed while he worked to extract my tooth. I could not have asked for a better experience and I have in the past had some very bad…

Kristen C.



My first visit was excellent, my tech was a pro, best cleaning I ever had, and cancer screening , very impressive ! I met with the dentist , who explained everything , Julie at the front desk. , was professional and pleasant ! I'm glad I changed to Diamond Spring Dental ! My wife also is very pleased , thanks , Hats Off !

Robert P.